There has never been a better time to launch a business! Every year we make a list of the top new business ideas to launch in the UK. You'll see that some ideas are new and exciting, and some are not so new but as the trend keeps growing you should definitely not miss out.
1) Sell products on Amazon
Selling on Amazon is a business idea that has been around for years, but in the last few years it's exploded in popularity. You can sell pretty much anything these days with Amazon and there are many easy to follow courses online teaching you how to do this from home.
Before you do anything, head over to Alibaba to find a product that you like and start negotiating with a supplier. This will be a key part of successfully selling products on Amazon, so make sure you're comfortable with the hustle.
Talking to suppliers will give you a better idea of what's possible with your business and will help you understand whether this business idea is worth it for you.
Amazon makes the process as easy as they can for sellers, but there are definitely some things to remember such as choosing the right products and making sure that suppliers don't take advantage of you.
2) Write a blog
First build a website, then write about what you love and monetise your traffic. If you like writing, this could be the dream business to start. You'll be surprised how many ways you can monetise a website.
3) Start a shipping company
Specialise in a mode of transportation (ocean, air, road, rail), a type of cargo or even a route from A to B. Negotiate wholesale rates with local suppliers and offer a great customer service. This a very profitable business to get into but it is highly stressful.
In depth guide: how to start a shipping company``
4) Build a comparison website
We all need help buying products online. Build a website, review and compare products and get paid each time a client buys with affiliate links.
5) Open a dark kitchen
A dark kitchen is a delivery only food business. Whether you create your own food brand or rent out virtual kitchens to restaurants, dark kitchens are the biggest growing trend in the food industry right now. Your clients will order online and your food will be delivered to them directly.
New food brands can work with local chefs or even start their own dark kitchen business if they have the resources.
A business like this is great because it doesn't require a lot of money to start, and the business can work with local chefs or even hire new staff. There's also an increase in services that deliver food so there will be more people who buy from dark kitchens than before.
Find out how much money you can make when you start a dark kitchen.
6) Sell engraved dog tags
Dogs need to have a tag, it's the law. Why don't you start selling engraved dog tags online?
You will basically be selling personalised dog tags to owners who want to keep track of their dogs. Engrave the owner's name and contact information on one side, along with a phone number that will allow anyone who finds the lost pup to connect with the owner. You also have the option of engraving your business' contact information on the other side so that anyone who finds their pup can easily get in touch with you to return it!
You will need to invest in an engraving machine (they start at £1000), order some tags on Alibaba and start promoting your service to dog lovers owners. Instagram is a great place to start!
7) Build websites for local businesses
As business websites become more essential than ever to business success, there are lots of opportunities for new digital business ideas. One area is building sites for local businesses that need a website but don't have the skills or time to create one - this could be done full-time, part-time or as an online business idea on the side.
Learn how to build websites with Wordpress, create a clear offering and then start knocking on doors. There are tens of webdesign services you can offer from logo making, SEO content to fully working eCommerce websites.
8) Create an online course
The next business idea is about teaching. We are all experts! Find something that you know how to do really well. It can be anything from healthy eating and creating power points to finding the best series on Netflix. A then double down! Become THE expert in that field. Document your method with text, audio and video and sell it.
Platforms like Udemy and Skillshare are a great place to start creating your course.
9) Build a travel activity website
There are tons of travel activity suppliers near you. They are all trying to sell their services in their corner of the internet. Bring them all together on your own travel activity website and receive commission each time somebody books an experience. You can learn how to build a travel website in our "make a website" section.
10) Launch a personalised gift business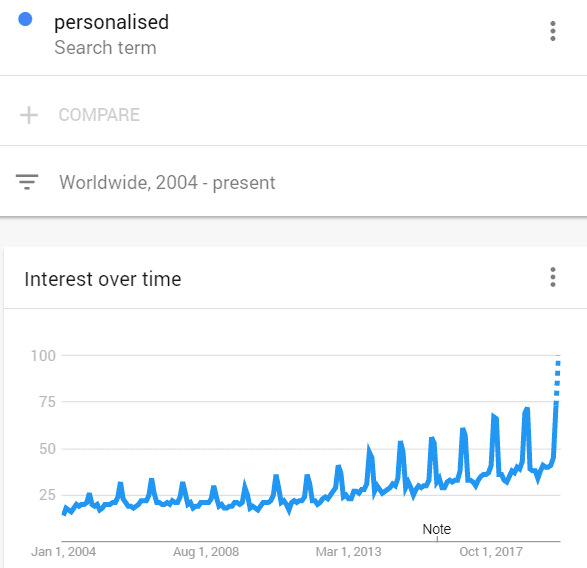 Think about all the gifts given around Christmas and Birthdays and find a way to make them personal. People want their gifts to be special and demand for personalised products is growing every year.  Find your niche, launch your very own personalised gift business. Why not start selling on Etsy? This is one of our favourite business ideas.
11) Build a local business directory
It's more and more confusing to find a local businesses online. Too many comparison sites, too many "get 5 quotes" offers. If you suddenly have run out of hot water and you're looking for a plumber nearby now... you're stuck. Build a online directory, sell advertising space to local businesses and use the funds to send them quality clients.
12) Open an Ebay shop
When you're trying to sell a product online, 50% of the job is getting visitors to see your offer. Opening a shop on Ebay will give you access to a marketplace of millions of buyers from day one. You can also study sales volume from your competition to figure out the next market you should jump into! Ebay is quick and low risk.
13) Become an Instagram influencer
Build your following on instagram and sell promoted posts and sponsored messages. You can even build your own brand selling directly to your followers.
14) Start your own marketplace
Running your own online store is great but managing inventory can be a real nightmare. Build an online marketplace, get other sellers to add their products on your platform for free and take a cut each time a sale happens.
15) Open a clothing line
16) Sell second hand clothes
This business can be started really fast. Open your bedroom cupboard and look for any clothes you haven't warn in a long time. Then head to Vinted or VestiaireCollective and start selling. Once you get the hang of it, it's time to hit the charity shops and car boot sales to replenish your stock. This is another low risk business idea.
17) Sell used books on Ziffit (or Amazon)
The last activity in our business ideas list if about your old books! Yes, Ziffit and MusicMagpie will buy your old books. By scanning the bar code with their app you can find out how much each book is worth and then send them off in exchange for real money. You can go one step further by finding the most valuable books and then listing them on Amazon and Ebay. You may need to hold your stock of books for a while but if you're patient you can get a return of x10 on their value.
18) Start a paid newsletter business
We love this idea at StartUpMag. Write awesome quality articles about things you are passionate about and get paid accordingly. That is every writer's dream and it can make a lot of money with paid newsletters too!
19) Start a pet-sitting service
The business idea of pet-sitting is becoming more and more popular.
Pet owners are constantly seeking for someone who can take care of their pets while they're away on business trips or holidays. There are also business possibilities for pet-sitting services on popular holiday destinations like Spain and Italy.
With about 10 million dogs in the UK today and just as many cats, there's definitely a great opportunity to start this kind business.
How to start a pet-setting service?
You only really a phone or tablet with a camera, so you can send your customers some photo updates every day.
As an option you can also get:
insurance cover in case anything bad happens with your potential customers' pets during their stay at your home.
business cards and flyers ready with all the necessary contact information on them in order to get new potential clients over the phone or email.
Sign up to pet sitting sites and apps
You can register your services for free first by creating an account with them
Rover.com is the worlds biggest business-to-pet care site and business idea for people who want to start a business around their pets.
But there are lots to choose from: trustedhousesitters.com, housesittersuk.co.uk, pawshake.co.uk.
20) Start an Etsy shop
Etsy is a great place to find your creative spirit. Whether you're looking for handmade goods or vintage treasures, this site has something that will suit every taste and interest level! You can start an Etsy shop in just minutes with these easy steps:
Here are 7 steps to setup your Etsy store
1 - Create a username.
2 - Choose your Etsy shop name and the category it fits into best.
3 - Designate an address where you can receive packages from Etsy.
4 - Verify that Etsy has correct contact information for you, including phone number and email address. You may also want to consider adding social media.
5 - Choose your Etsy shop payment preferences

You'll pick how you want to receive payments first; you may take PayPal, a check or money order, "other," or Etsy Payments, which is the most common way sellers are paid. You can accept credit cards, debit cards, Etsy gift cards, and store credit with this choice.

6 - Customise your Etsy shop by adding a bio and a photo, your policies, sections to group your items into categories and your about section.

Just like your personal "about" section, you deserve a bio too. You have 5,000 characters to tell customers about the origins of your company - keep in mind that they value transparency and openness so don't worry too much when it comes down write traditional marketing copy just be genuine!

If you want your bio to stand out, let it shine with all the help that makes you who are. Listing any individual or group members will do just fine as long they have helped in some way: from creating and producing products for sale; running a store where customers can purchase whatever is on offer (or by referring clients); showing off photos or video clips showcasing creative process at home studio space--whatever their contribution has been!

7 - Add items to your shop with photos and descriptions

This is probably the most important part of your shop. This where you will get most of your visitors to buy your product. To write your product descriptions, ask yourself why people would want what you have available on in your store? Be specific about how your products/services might benefit them.
3 bonus tips for writing highly conversting Etsy product descriptions:
Tip 1 - Add sections (with their own titles) to your product descriptions

Sectioning off your Etsy product descriptions keeps them easy to scan through. Most Etsy customers are browsing Etsy and looking at tons of listings at once to make a decision on what to buy. If your product descriptions are in one huge paragraph, the buyer will feel overwhelmed and not want to read it so keep paragraphs to 2-3 sentences max.

Tip 2 - Answer any questions that your buyers may ask

One thing to remember is that any confused buyer will move on. If they're left with lingering questions, most won't bother reaching out for more info- but you can make sure your potential customer has all their bases covered by answering these common questions in a clear and concise way!

Tip 3 - Add a Call to action and a link to your Etsy shop

A great way to encourage your buyers is by including a call-to action in the description. For example, instead of just saying "buy" at the end, be creative with how you ask them for their business! Be specific and add an Etsy link that will take them directly into your shop where they can find more products like this one. Or to other products similar enough so it's easy decision making process.
21) Build a local "I will fix your geeky stuff" service
Tech is everywhere. More and more people are connected and more and more people are working from home. This is a great opportunity to launch a simple "i'll help you fix your tech" service where for a monthly fee you will run over and fix printer setups, make sure the speakers are connected to the TV, add a booster to a router. And why not offer some software lessons: everybody wants to learn how to make their pictures better on instagram!
You could also offer a Zoom version where you can also fix setups from a distance. This type of business can be as small or as big as you like. There's a great franchise model to create here.